René Magritte
Lessines 1898 - Brüssel 1967


The Belgian painter was born in Lessiness, a small town in the province of Hainaut, on November 21, 1898. The family moves to Châtelet south of Brussels in 1910. Magritte studies at the Académie des Beaux-Arts in Brussels from 1916 to 1918, where he is a fellow student of the painter Viktor Servranckx. Together they write the text "L'art pure: défense de l'esthétique" (The pure art: advocating the esthetic), which they do not publish. As of 1922 he finds employment as a drawer in a factory that makes wallpapers and also earns a living making advertisements for fashion shops. René Magritte's early paintings are geared at Impressionism and Cubism and later at Futurism. Knowledge of the "Pittura Metafisica" leads to Magritte's own surrealist trials.
In 1927 he moves to Paris where his first exhibition takes place in the gallery "Le Centaure". He soon gets in touch with André Breton, Max Ernst, Francis Picabia, Marcel Duchamp and others, and plays an active role in the circle of Surrealists.
René Magritte's surrealist style is mysterious and full of magic. A magic that is created by the combination of his realistic depiction of everyday objects and the discrepancy to the known, to the perception of everyday life. Magritte diverges proportions, changes the image's texture. He combines real objects with abstract figurations. René Magritte paints his probably most famous painting "La trahison des images" (Betrayal of the Images) in 1929, which shows a pipe and the words "Ceci n'est pas une pipe" (This is not a pipe) next to it.
In 1930 he returns to Brussels. His works are shown in numerous exhibitions of surrealist art all over the world. The artist writes numerous articles and contributes to catalogues, explaining his concept of the possibilities of art. The Museum of Modern Art in New York shows a first large retrospective of his works.
René Magritte dies in Brussels on August 15, 1967.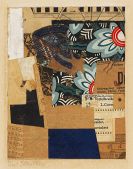 Kurt Schwitters
Uviolett
44,400 $
Details

Edgar Ende
Begegnung
33,300 $
Details